• First Grand Prize at the 28th Korean National Art competition for youth (approx. 223,000 applicants)
• First Solo Exhibition in Korea: Kyungin Gallery, sponsored and supported by Monthly Art-World, Daily Chosun
• Second Solo Exhibition in Japan: Tokyo Odakyu Gallery, sponsored and supported by The Korean-Japanese Cultural Exchange Association, The Sankei Newspaper (Introduced Super Individualism Art)
• Georgetown Preparatory school VA., USA
• Oxford University, Politics Philosophy and Economics (PPE)
• Former CEO of HI&T, Hanon Group
• Honorary Consul of Iraq
• Founding Patron of the United Help for International Children - uhic.org
• Former Chairman of Hanol religious foundation: Introduced Art of Enlightenment and Awakening
• Resigned from Hanol foundation
• Introduced Trans-Art
Sewon Shin's father was the founder of HANOL-GYO (the religious re-establishment of the Korean national founding principle based on the philosophy of spiritual transcendence, which foresaw the possibility of evolution in human consciousness 5000 years ago), as well as a politician (South Korean Presidential Candidate in 1987 and 1997) and an entrepreneur (the Chairman of HANON Group).
His unique spiritual background influenced his art from the beginning – as the son of an unconventional religious leader, Sewon experienced religious prejudice and discrimination from very early on in his childhood. As a little boy he attempted to escape from his given reality by becoming obsessive in painting; it was his only means to escape from the mental suffering caused by unbearable religious upheaval, inevitable personal sacrifice of freedom, as well as religious discrimination.
His compulsive habit of painting eventually led him to acquire the painting skill to express his inner state fluently.
Sewon Shin won the 28th Korean National Youth Art Competition at the age of 13. He was awarded first place out of approx. 223,000 applicants (quote. Daily Chosun), thereby winning the grand prize with the privilege of governmental approval to study in the United States (study abroad was not permitted then).
• First Solo Exhibition in Korea at the age of 17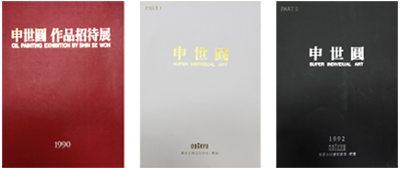 Sponsor: Kyung-in Gallery, Monthly Art World
Support: The Chosun Daily Newspaper
• Second Solo Exhibition in Japan at the age of 19
Sponsor: Tokyo Odakyu Gallery, The Korean-Japanese Cultural Exchange Association
Cooperation: The Sankei Newspaper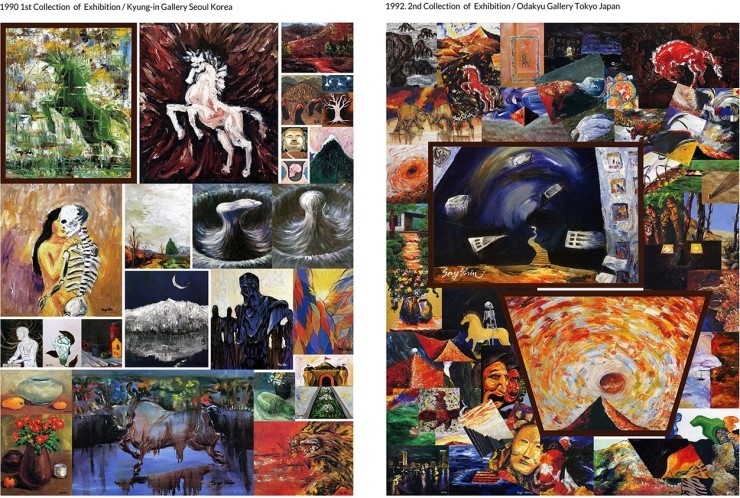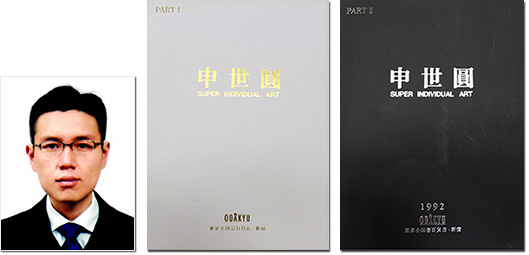 • Super Individualism Art
At the age of 19, he introduced a new concept of art called "Super-Individualism Art" at the Tokyo Exhibition.
In conveying Super-Individualism Art, he combined music, scent, optical illusion and time & space factors and proposed the use of an orchestra, a train and train station, and even a whole mountain in performing his art. Super-Individualism Art is the root of Trans-Art, which is to transcend the egoic state of mind and to awaken into an enlightened state of consciousness through art.


After the Tokyo exhibition, Sewon was seriously discouraged by failing to install Seoul Namsan Tower as a medium to perform his 'Super-Individual art' (due to city rules and regulations). It triggered him to halt the expected course of his life in art and challenge new perspectives.

After he graduated from Georgetown Prep school, he gave up pursuing his art and majored in Politics, Philosophy and Economics at Oxford University (receiving a B.A. and M.A. in PPE).
His father, the founder of the HANOL religious foundation, and also a respected politician (a Korean Presidential Candidate in 1987 and 1997) and an entrepreneur (the chairman of the Hanon Group), had a stroke while he was attending his son's Oxford graduation and passed away in 1999.

Sewon Shin gave up further studies and immediately returned to Korea in order to take care of his family and his father's business.
As a legal descendent, he was obliged to take on the responsibility of restructuring the Hanon Group and the Hanol religious foundation which were in serious financial jeopardy triggered by the Korean IMF crisis.
Sewon Shin renounced all his inheritance and donated most of his remaining personal assets for the recovery.

As Deputy Chairman of the Hanon Group, he restructured each of its subsidiary companies, reducing them to 13 affiliates. He finalized an agreement to develop one of the largest crude oil mines in Iraq, which his father first initiated (a consortium with Samsung, SK, Korean National Oil Development Corporation, of which HI&T was the Managing Partner & Directing Initiator). He also acquired an agreement to develop internet-telecommunication systems for the Iraqi government.
His business and diplomatic contributions were recognized by both the Korean and Iraqi governments and he was appointed to the Honorary Consul in 2000.


He was very dedicated to humanitarian activities for children suffering from the war in Iraq. He supplied them with medicine, and his brother, Se-Yong Shin, established UHIC (United Help for International Children www.uhic.org ), an organization which is very active in helping suffering children from all over the world.
In 2001, he was selected as one of '21 Young Power Leaders of Korea of the 21st century' by the Seoul Economy-Financial Daily.
< Architectural art of enlightenment and awakening >
After the Hanon Group was stabilized, Sewon Shin resigned as the CEO / Deputy Chairman and restructured the Hanol religious foundation. He tried to reform the existing belief system by integrating 'art and spirituality'; he introduced the concept of 'Spiritual audience' rather than the conventional notion of religious followers.
Up until his official resignation as a leader of Hanol foundation, Sewon Shin re-established Super-individualism art (i.e. Trans-Ego art) and expressed the transcendental philosophy of HANOL (the self-liberation of consciousness) in the form of art and architecture:
The Art of Enlightenment and Awakening :
• The Art of BORNZONE
• Awakening of Solars
• Enlightening Temple of Trinity
• Universal Trinity
• Han Art & Architecture
• Art of Transcendence

Contact Sewon Shin